Asheville used to be one of the Southeast's top weekend vacation destinations. Okay, it still definitely is, but, with heightened interest in the area plus many folks' ability to work remotely for the last year, we've noticed one thing: folks are elongating their trips.
With so much to see and do in Asheville, you could spend years exploring this vibrant city in the Blue Ridge Mountains. Maybe you're coming for a bachelorette excursion, a family vacation, or maybe even a trip preceding a prospective move to the area.
We've curated a 5-day itinerary for Asheville to cover all of the must-sees and must-dos to make your trip full of fun and adventures!
The 5-Day Asheville Itinerary At a Glance:
Day 1 – Start off with adventures! Explore nature in Asheville
Day 2 – The "must sees": Iconic & Historic Asheville
Day 3 – The REAL Asheville: Downtown & the Arts
Day 4 – Treat Yo'self: Asheville's Food & Beverage Scene
Day 5 – Relax, reflect, rewind: Mind, Body, Spirit
Looking for the best local insights and recommendations? We love sharing our hometown with visitors!
---
Day 1 in Asheville – Get out in Nature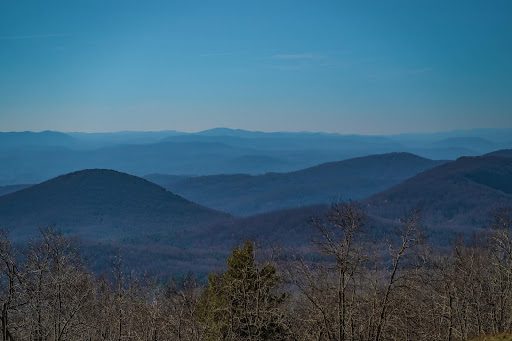 The first of your 5-day itinerary for Asheville gives you time away in nature to breathe deep, relax, and immerse yourself in the beauty of our lovely Blue Ridge Mountains!
These mountains are home to powerful waterfalls, biodiverse forests, and breathtaking 360-degree views. Get out early and choose from a variety of experiences such as paddleboarding the French Broad with experienced guides, and even mix it up by incorporating yoga on a SUP Yoga Tour! Or, tap into your spirit of adventure with rafting, climbing, or ziplining with French Broad Adventures.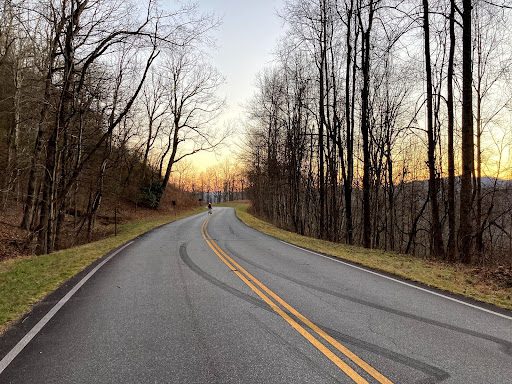 One of the best ways to experience the mountains in Asheville is with a drive on the Blue Ridge Parkway. This scenic highway meanders the ridges of Western North Carolina, with paved overlooks and numerous trailheads for hiking.
Round out your adventure by enjoying breathtaking views painted with colorful hues on a Sunset Yoga on the Mountaintop Hike, a one-mile trek through incredible biodiverse natural wonder, followed by an hour of all-levels-appropriate yoga, complete with warm tea. We'll bring the mats. You bring your spirit of adventure!
Pro Tip from an Asheville Local:
Before heading out for your outdoor adventures in Asheville, make sure you are prepared by packing food, water, and the right clothing and footwear to protect you from the elements.
They say for a day in Western NC, you must be prepared for EVERYTHING, and it's true! Rain, sun, and we're famous for 20+ degree temperature drops in an afternoon. This is truly a temperate rainforest.
Stop by one of Asheville's local outfitter stores to make sure you're properly equipped for a full day in the great outdoors. Layers will nearly always be your key to comfort…and don't forget rain protection!
Day 2 in Asheville – Experience Iconic Asheville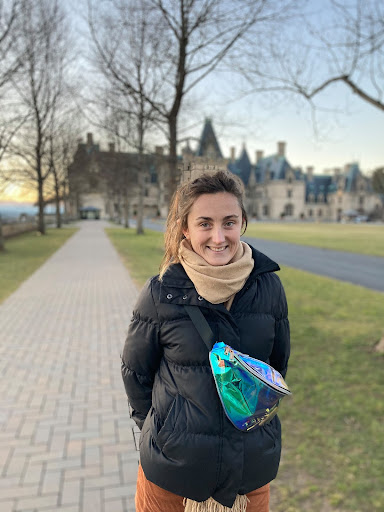 There's nothing more iconic in Asheville than the Biltmore Estate, which just so happens to be the largest privately-owned home in the entire country.
On your second day in Asheville, take a self-guided or guided tour of the house itself, George Vanderbilt's French Renaissance castle featuring 250 rooms. The grounds are equally as impressive, so head outside for a stroll along the paths of the elegant grounds and gardens.
Pro Tip for Visiting the Biltmore Estate in Asheville:
You could easily spend a full day here exploring the house, expansive gardens, and peaceful estate grounds so don't try to pack too much else into your day. Before you leave, don't forget to pop over to Antler Hill Village for a complimentary wine tasting at Biltmore Winery!
Just outside the entrance for Biltmore Estate sits iconic Biltmore Village, originally constructed by the Vanderbilt family for their estate workers. These days, the main activity here is shopping, with a focus on creative boutiques and popular luxury brands. You'll also find a few cafes to refresh yourself as you browse.
The Grove Park Inn
Seen from different vistas all around town, in North Asheville at the base of Sunset and Town Mountains lies the historic Grove Park Inn. The Inn was built in 1913 by Edwin Wiley Grove (known as the "Father of Modern Asheville"), who believed the climate would have health benefits and be the ideal location for a resort.
Grove Park Inn has hosted numerous celebrities over the years, including Thomas Edison, Henry Ford, John D. Rockefeller Jr., Dan Aykroyd, Jeff Daniels, Jerry Seinfeld, Jennifer Lopez, John Denver, Trey Anastasio, Franklin D. Roosevelt and Eleanor Roosevelt, Harry Houdini, David Copperfield, poet Carl Sandburg (whose home was in nearby Flat Rock, NC), Helen Keller, Barack and Michelle Obama in 2010, and many others.
Most notably, F. Scott Fitzgerald stayed at the hotel for two years (1935 and '36) to write while his wife Zelda was a patient at Highland Hospital, previously known as Dr. Carroll's Sanitorium, in Asheville. Today, it features a world-class spa, a Donald Ross-designed golf course, as well as several restaurants and bars.
Pro Tip for Visiting Asheville's Grove Park Inn:
Step out onto the Sunset Terrace to get a glimpse of gorgeous long-range mountain and city views.
Day 3 in Asheville – Discover Downtown and the Arts
The heart of Asheville is filled with shops, breweries, restaurants, galleries and so much more. On day 3 of your 5-day Asheville itinerary, enjoy simply walking the streets. Admire all the early-twentieth-century Art Deco architecture, street performers, and — if you come in summer — you'll likely wander into a street festival with live music, locally crafted art, and more! Be sure to check out Pritchard Park on a Friday to catch the oh-so-Asheville Drum Circle!
Get the inside scoop of Asheville's storied history with your choice of twist. We obviously recommend our Wellness Tours highlighting local businesses! But we also love the Black History and Art Tours with social enterprise Hood Huggers International Tours, or you can opt for laughs with a LaZoom Comedy Bus Tour or tour the town in a quintessential family-friendly trolley with Grayline Trolley Tours.
A few blocks from Pack Square in the heart of downtown Asheville, you'll find Eagle Street and The Block, Asheville's once central business district for the Black community. Today, a group of community members and organizations such as the YMI Cultural Center and LEAF Global Arts Center are working to revitalize this district with a focus on preserving its history and bringing Black-owned businesses back to the area.
Take a break mid-day to enjoy a private Tarot Reading and refreshing light bites and a wonderfully comprehensive tea menu at our favorite cozy local tea house in the heart of downtown.
This evening, we recommend you dine at Benne on Eagle located at the Foundry Hotel. Esquire's food editor said Benne's food "celebrates the debt that Appalachian food owes to African cuisine."
River Arts District
Just a couple of miles from downtown, you'll discover more than 200 working artist studios in Asheville's creative center. Resting along the French Broad River, the River Arts District hosts hundreds of artists creating a wide variety of crafts every day.
Enjoy an opportunity to meander the mile-long district and see behind the scenes of working studios, plus interact with the plethora of creative talents in the RAD!
Make sure your visit coincides with the RAD's "Second Saturdays" monthly event, to get a behind-the-scenes view of many of the artists in their studios!
Local Asheville Pro Tip:
Discover the River Arts District's newly built greenway located along the French Broad River. Go for a walk, run or bike ride while you take in the city's dynamic culture.
Day 4 in Asheville – Eat & Drink
There's a reason Asheville continually wins "Beer City USA" and is known far and wide as a foodie's paradise. It's that good.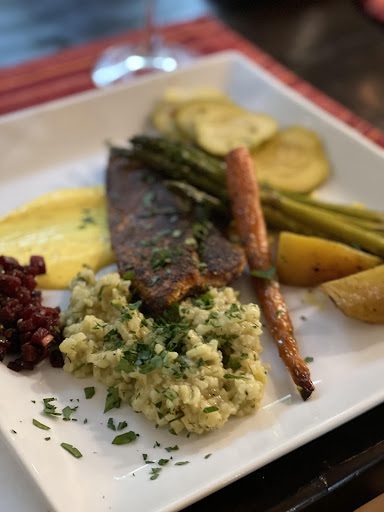 For the health & wellness conscious, many of Asheville's restaurants offer a wealth of healthy, vegan and vegetarian options. Check out a casual taco stop by the river, the best breakfast spot in town, the BBQ spot frequented by the Obamas (yes, the vegetarian portobello option is to die for!), live music venues and breweries with delicious/creative eateries onsite, a French bistro, outdoor dining with a view… we could go on and on!
Please check with individual restaurants for the most current info on hours, offerings, etc, before visiting. Or, go to FoodInAsheville.com for a list of local, independently owned restaurants. Looking for some more exposure to culinary adventures? Our private chef services in Asheville feature some of the area's best-known and most cutting-edge chefs. All you have to do is sit back, relax, and eat!
For brews, our favorites are downtown's Burial Beer, West Asheville's Archetype Brewing, industry classic Highland Brewing (now boasting an amazing outdoor venue space), and riverside favorite with the most reliable and unique offerings Zillicoah Beer Co. Not into beers? Try a Cider at Urban Orchard or check out the awesome Ginger's Revenge!
If you're more of a wine connoisseur, you can always opt for a guided winery tour, which includes visits to three Asheville area vineyards. With safe and reliable transportation provided, you can sit back, relax and just have fun.
With hundreds of (really good) restaurants and over 50 local breweries, this has been just a taste. Planning a trip to Asheville? Download our free guide for more in-the-know deets!
Day 5 in Asheville – Connect to Mind, Body & Spirit
The reputation for Asheville, North Carolina, as a destination for health and wellness has deep roots. Asheville has historically been a place to retreat, a place of refuge. As far back as 1795, records show that the Asheville area was regarded as a place to come heal oneself of ills.
American Indians used the area as a neutral ground for their sick, particularly the area around Hot Springs. A long line of physicians came to Asheville, some to convalesce themselves, and ended up staying, building practices and promoting Asheville as a health retreat.
From the late 1880s to the 1930s Asheville rose in prominence as a curative place for tuberculosis. Boarding houses just for this condition, such as the Brexton Boarding House, were abundant. One such founder, Gleitsmann, 'systematically studied the United States and "selected Asheville as having an optimum combination of barometric pressure, temperature, humidity and sunlight" which he believed to be conducive to healing tuberculosis.' (source)
Nowadays, the Asheville area is considered to be the "New Age Mecca of the East" by many people. The area's dedicated community of health-conscious residents and wellness experts, from massage therapists, acupuncturists and other alternative health care practitioners, provides locals and visitors alike with innovative ways to relax the mind, rejuvenate the spirit and renew the body.
At Asheville Wellness Tours, we consider ourselves a valued extension of this long line of wellness-oriented creators and seekers, providing the 'connection to the calling' – connecting the seeker to the offering, and the facilitator to the one in need.
Among some of our favorite options is Forest Bathing, based on the Japanese wellness practice of shinrin yoku. There's no water involved — instead you're bathing your soul in the atmosphere of the forest and taking in Mother Nature through your senses.
The BEST way to fully bliss out, in our opinion, is a spa day. Asheville has so many unique options, like hot/cold/relax therapy at Sauna House (located downtown), the regenerative experience of Asheville Salt Cave , and the full menu of experiences (and amazing views!) at The Stable Spa at Horseshoe Farm.
In fact, there are so many stellar options that we recommend a spa TOUR day, or adding this blissful activity to more than one day of your Asheville itinerary! Coming with a group? Check out our list of "Top Spas in Asheville for Groups"!
Pro Tip from an Asheville Local:
End your day of relaxation with a wellness-centric sip and a historical component by adding on an evening Rooftop Bar Tour to catch a beautiful sunset and a nightcap. As your guides take you to multiple spots in downtown Asheville for cocktails or mocktails, they'll provide details on Asheville's unique history and you can sit back, relax and just have fun.
Hooked on Yoga and need more than a day devoted to wellness during your Asheville trip? Check some of our other suggestions on local out-of-the-box yoga options!
Have Some Extra Time During Your 5-Day Trip to Asheville?
Add to your Asheville itinerary by checking out the surrounding areas!
Start your day by driving just 15-20 minutes to one of Asheville's charming neighboring towns: Weaverville (to the north) or Black Mountain (to the east).
To the east, you'll find Black Mountain, "The Little Town That Rocks from Sunup to Sundown!" Black Mountain and the Swannanoa Valley is rich in arts, crafts, and music. It is currently home to over 200 businesses, including restaurants, bed and breakfasts, specialty shops, and breweries.
We love Blue Ridge Biscuit Company for breakfast before strolling the local shops on Main Street and viewing the Seven Sisters mountain peaks from the greenway at Lake Tomahawk.
Less than a half-hour north of downtown Asheville in Weaverville, discover local pottery from Mangum Pottery. Take a trip to Asheville in November for "Art Safari", one of the original studio tours in the Asheville area. It's a self guided free event that offers a unique look at the artist's work in their working environment. Grab lunch from the famous Blue Mountain Pizza before taking a walk at nearby Lake Louise.
Just 20 minutes driving east of Asheville is Fairview, where you'll find Hickory Nut Gap Farm, a major supplier of Asheville's humanely raised meat, and Whistle Hop Brewing Company, a unique brewery set in two historic train cars!
Continue on and you'll pass through Gerton, known for its beautiful hiking trails (this is where we host our Yoga On The Mountain tours!), and ultimately wind up in Lake Lure/Bat Cave, where you can make a day out of swimming and relaxing at the beach of the town's namesake lake, and checking out iconic Chimney Rock.
If you have a full day for a scenic drive, round out your route by taking highway 9 back through Black Mountain, noted above.
Other notable stops within an hour's drive of Asheville are Hendersonville to the south, Canton, Waynesville + Maggie Valley to the west, and Old Fort + Marion, just past Black Mountain to the east. Each boasts a picturesque historic downtown district, quality cafes, restaurants and breweries, and countless nearby spots to hike and explore.
So what are you waiting for? Start planning your 5-day trip to Asheville and the rest of Western NC! We would love to help you iron out all the details, plan the logistics, and make your Asheville itinerary everything you want it to be. Get in touch for a complimentary planning session!